Day 1: Cycle from Peterborough (A) through Cambridgeshire and Essex to Saffron Waldon (B).
Day 2: Saffron Waldon (B) to Blackheath Common (C), London.
Day 3: Cycle from London through Kent and North Downs to Dover (D); ferry to Calais (E).
Day 4: Quiet winding roads and old market towns to Arras (F).
Day 5: Follow undulating tree-lined roads to Compiegne (G), on the banks of the River Oise.
Day 6: Rural countryside and villages to outskirts of Paris; finish under Eiffel Tower(H).
How and the route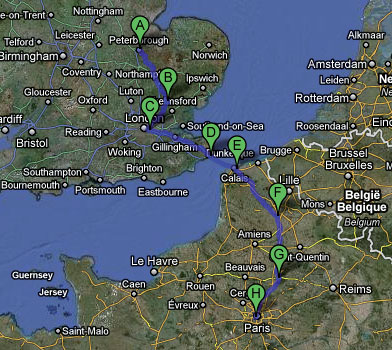 On our trusty Dawes Discovery Twin Tandem after lots and lots of yummy training. The first part of our journey (Peterborough to London) will be carried out alone, before joining a group of solo cyclists who are cycling from London to Paris to raise funds for Charity.